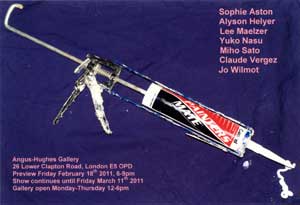 at Angus-Hughes Gallery
26 Lower Clapton Road (at the junction of Urswick Road) London
The first of three exhibitions curated by Lee Maelzer
Sophie Aston, Aly Helyer, Lee Maelzer, Yuko Nasu, Miho Sato, Claude Vergez, Jo Wilmot
Preview 18th February 2011, 6-9pm
Exhibition opens 19th February – 13th March 2011, Friday – Sunday 12-6pm.
...
Painters' Mate brings together seven female painters in an investigation of the male muse all in his guises: partner, lover, public figure, sex object, nemesis or combinations thereof. Awash with contradictions; jumbled images of past and present lovers mix with cool visions of distance and denial. Fantasies manifest with self-referential lusciousness or metaphorical detachment, while others are infused with humour and absurdity. Ultimately celebratory in tone, there are inescapable ambiguities explored in this exhibition. Sometimes explicit, sometimes spectacularly oblique, these artists express desire, tenderness, subjugation and fear.
Sophie Aston is exhibiting nine collages. She fuses recycled canvases with printed matter and with painting to produce a group of interrelated scenes. The scenes are episodes in the relationship between the artist and her lover. She sees the group as a poem, and like a poem, there is rhyme and refrain. The courting couple take the form of mouths, horses, heads and hands; they circle one another, mirror each other, dance and bare their teeth. They offer flowers and limbs and dare to leave behind the delicate pain of keeping life in potential.
The drawings and painting by Aly Helyer recall chance happenings and universal archetypes – they seem to refer to deities and the primordial. Her working method uses a mixture of conscious and unconscious drawing techniques to give a feeling of half remembered lovers, precious nights and the grand tradition of artists' muses. The drawings are not of any relationship but of every relationship, with the beauty, comedy, sensuality and absurdity of romantic liaisons.
Lee Maelzer's paintings in this exhibition are oddly segmented representations of the youthful male form. They examine with almost obsessive scrutiny the subjects' veins, scars, moles, hairs and flesh. In an almost under-the-skin examination of male beauty they are an attempt to understand desire by the investigation of the minutiae of the object of it.
Yuko Nasu's works on paper are spare and tender depictions of the face and figure.
They combine sensuality with a remoteness that allows the model space and privacy despite the closeness of the situation. The rendering is smudged, washed or simplified to render mutable the identity of the subject. These stylized drawings and paintings have an elegance that belies their simplicity.
Miho Sato says about her practice "Sometimes my life sinks into the world of images as if they are like the sky that you just accept as being there as a fact of nature. At other times I do not know what it is I see and then there is a sense of everything appearing as completely unnatural. Also sometimes my work appears light and humorous and sometimes as dark and heavy. I do not feel it is possible to control how we might be seen or indeed see. Painting is just a process of bringing such differences into the open."
Claude Vergez's paintings imply twinning with their symmetrical web of intertwined lines which either create vessel-like shapes or perhaps a body of some sort.
The forms Vergez creates recall many things: Baroque ornament, natural formations, spiky futuristic flower bouquets, and sexual connotations.
Jo Wilmot's paintings are slightly sordid and grubby. They don't speak of happy times, more of partying rather than parties and hangovers that are emotional as well as physical. The chilly palette and scrubby brush marks leave an underlying feeling of emptiness and regret; Joy Division not joyful.
For more information, please contact:
William Angus-Hughes, Angus-Hughes Gallery, Tel: 0208 985 0450 Email: mail@angus-hughes.com
Lee Mealzer lee.maelzer@btopenworld.com
About the artists
Sophie Aston was born in Kingston, Surrey. She studied at Glasgow School of Art, and Chelsea College of Art. She has showed in John Moores 23 (2004) and has exhibited in numerous group shows including Barmy Park at Bethnal Green Library (2010), Flowers East (2009), at Contemporary Fine Art Projects (2008), Sarah Meyerscough Fine Art and The Nunnery Gallery (2007), Second Space Redchurch Street (2006) and with Jibby Beane in 2000. She had a solo show Beneath Unfamiliar Skies, Amber Roome Gallery, Edinburgh (1997). Her work is in several private collections including those of David Roberts, Barney Moores and Gerry Fox.
Alyson Helyer studied at Chelsea College of Art. Selected exhibitions : Beasts Royal Viktor Wynd, London (2010), Crash Open Salon Charlie Dutton Gallery London, selected by Matthew Collings and Dan Hays (2010), Deptford X Core Gallery, London, (Prize Winner, 2010), ArtWorks Open Barbican Arts Group Trust (2010), N16 Fringe Praxis Gallery, London (2009), Celeste Art Prize , London (2006), Jerwood Drawing Prize Touring Exhibition (2002).
Lee Maelzer was born in London. She studied at Central St Martins College of Art and the Royal College of Art. She has had five solo shows in London and has exhibited in numerous group shows internationally. These include; John Moores 23, ARTfutures at Bloomberg Space, Calvert 22, Inimitable at Lucy Mackintosh, Lausanne, Between a Rock and a Hard Place at Kenny Schacter, Rove, An Archaeology at 176 Project Space and Domestocity at Cell Projects. She was awarded an Abbey Fellowship at the British School at Rome in 2004.
Her work is in many collections including Zabludowicz, David Roberts, University of the Arts and Frank Cohen. She is represented by Poppy Sebire, London
Yuko Nasu was born in Japan. She studied at Chelsea School of Art, Central St Martins, Kyoto City University of the Arts. Solo shows include: Quinquennial, Stour Space, London (2010), Detective, MYU project, London (2009). Recent group shows: The Franks- Suss Collection, The Saatchi Gallery, London, (2010) BAD IGLOO LUST The Royal Standard, Liverpool, England (2010) Face, H Zone, Shanghai, China (2010) Jerwood Drawing Prize (2009), Jerwood Contemporary Painters, 2008).
Miho Sato was born in Japan. She studied at City & Guilds School and Royal Academy Schools. Solo shows include: Domobaal, London (2010), Tatjana Peters/One Twenty , Gent (2009). Selected group exhibitions: The Shape of Things, Ferrate Gallery, Tel Aviv, Israel (2011) New London Painting, Brown Gallery, London (2010) Plastic Culture, Harris Museum, Preston, and The Exchange, Penzance (2009), The Future Can Wait (2007), John Moores 23 (2004), New British Painting, John Hansard Gallery, Southampton (2004).
Claude Vergez was born in Paris, France. Solo Shows include: Claude Temin-Vergez, Madison Gallery, London (2009), Ecole regionale des Beaux Art, Valence, France , (2009) Space Other Gallery, Boston USA. Recent group shows include: Meta, a touring exhibition, Ruskin Gallery, Cambridge (2009), la peinture est presque abstraite, Le Transpalette, Bourges, and Camberwell Space, London (2009) ,The Expanded Painting Show, Art Basel Miami, (2007). She was the Abbey Award Fellow, British School at Rome (2005).
Jo Wilmot was born in Birmingham. She studied at Goldsmiths, University of London and Central St Martins. Recent group shows include: All Insignificant Things Must Disappear, Trinity Museum, New York, (2010), Bright Lights from London, Resy Mujisers Contemporary Art, Tilburg, The Netherlands (2010), Fade Away, Transition Gallery, London (2010), DETOX, London (2010), Souvenirs, Centro Cultural Matadero, Huesca, Spain (2009), This is Not an Exit, Gallery 33, Berlin, Germany (2009), Men and Motors, Studio 1.1, London, (2008).